Dr. Michelle Stovall and staff are committed to providing your child with quality dental care in a relaxed and child-friendly atmosphere. With over twenty years of experience and service in our dental office, many of our original patients are now bringing their own children in for dental care!
The American Academy of Pediatrics and the American Academy of Pediatric Dentistry recommend visiting the dentist six months after the eruption of the first baby tooth or by your child's first birthday. Protect your child's teeth by starting dental check-ups early. Routine dental check-ups are as important as routine well baby check-ups by the pediatrician. During the first visit the dentist will examine the teeth and gums to check for decay and other problems. He will make sure the proper number of teeth have erupted, see how well the teeth are being cleaned, and check for cavities. The dentist will offer teeth cleaning instruction and suggestions, and discuss the fluoride needs for your child. He will discuss healthy eating habits, and the prevention of baby bottle tooth decay. Toddlers are often evaluated for habits such as thumb or finger sucking, and pacifier use. Initiating visits to the dental office at an early age will allow your child to become more easily acclimated to dental examinations and establish a routine of healthy dental habits.
It is important to make your child's first dental visit an enjoyable one. Schedule a morning appointment when children tend to be well rested and more cooperative for examination. Inform your child of the visit, and describe the appointment in a way that will not cause unnecessary fear. Reassure your child that you will remain with them during each dental examination. Avoid telling scary stories about dental visits or relaying any anxiety that you might feel about dental examinations. It is our goal to gain your child's confidence at the first visit, and help them overcome any apprehension about visiting the dentist. We look forward to meeting you and your child, and starting a lifetime of good oral health.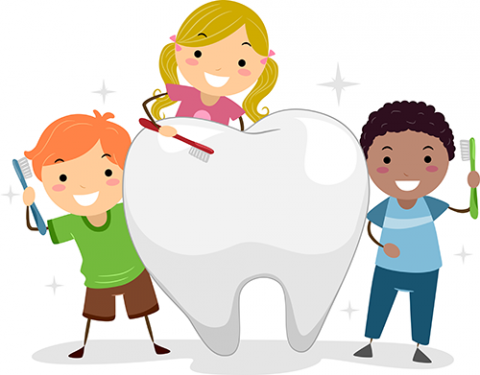 ROUTINE/PREVENTATIVE DENTAL SERVICES
Oral Examination
Oral Hygiene Instruction
Cleaning (Prophylaxis)
Topical Fluoride Application
X-ray
Sealants
RESTORATIVE/SPECIALTY DENTAL SERVICES
Extractions
Fillings/Crowns (tooth colored available)
Root Canal Therapy (primary teeth)
Space Maintenance
Mouth Guards
Tooth Whitening
ORAL HABIT TREATMENT/PREVENTION
Baby Bottle Tooth Decay
Thumb/Finger Sucking
Pacifier Use
DENTAL ANXIETY MANAGEMENT
Nitrous Oxide (laughing gas)
EMERGENCY DENTAL SERVICES
Tooth Pain/Abscess
Dental Trauma/Accidents
HANDICAP ACCESSIBLE OFFICE
Special Needs Patients
Medically Compromised Patients